For the past week now, stars like Jennifer Aniston, Courtney Cox, Jimmy Fallon and even YouTubers like Mark Rober have been under fire for being a part of Kristen Bell's dinner party at South Fork Lodge in Sweet Valley, Idaho. "There is no diversity" netizens say while replying to tweets made about the dinner.
The picture was first shared on Instagram by Kristen Bell herself, it was included in a carousel post she made about her recent holiday to Idaho with her husband and their daughters.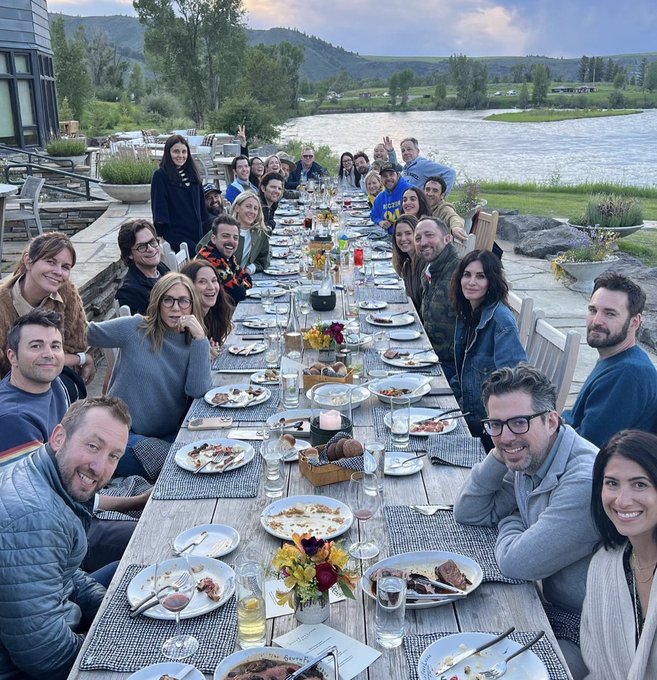 One of the first tweets about the picture was made by the user @coledelbyck, pointing out how insane the image was because it included major celebrities the more you went down on the table.
The tweet ended up getting just over 10 Million views and it did not take long for others to point out the absence of diversity at the dinner.  Many even guessed it was a Friends reunion dinner owing to the fact Jennifer Aniston and Courtney Cox were present.
this photo from kristen bell's dinner party gets increasingly WTF as you go down the table pic.twitter.com/eoG73TS3FI

— Cole Delbyck (@coledelbyck) July 7, 2023
After the above tweet went viral, there was a chain of other posts mentioning the absenteeism of any black personality at the party, and while everybody didn't worry much about it and just made jokes about it, few others responded in a different way calling out Jennifer Aniston and all the stars present in the party, one such user, @JonathanPerk even questioned what everybody else would do in such a situation. The said tweet has 7.7 Million views as of now.
Serious question for well-meaning white people. When you show up at a get-together like this, do you notice there are zero Black people, or nah?

If so, do you say or do anything about it? To who? Please be honest. This is a safe space (unless you say something dumb or racist).☺️ pic.twitter.com/y7jI2Yyk9S

— Jay "Affirmative Action Hack" Perkins (@JohnathanPerk) July 10, 2023
But that is not at all for @JonathanPerk, after posting this tweet, he proceeded to make a series of replies showing a few of the DMs he got and his point of view.
While many of the stars present at the dinner are yet to respond to the controversy, fans took it upon themselves to defend them. "They literally believe friendships are like video games and tv shows that need diversity quotas. ", one user said while pointing out that friendships usually happen naturally, calling the take funny and weird.
this is so funny and weird ????

they literally believe friendships are like video games and tv shows that need diversity quotas.

friendships usually happen naturally.

the implication here is that you need to go out of your way and handpick token black friends pic.twitter.com/VLvhGC5jb4

— shoe (@shoe0nhead) July 11, 2023